Jack Ganssle's EET Radio Show Debate on the meaning of Embedded
A couple of weeks ago, I posted a blog about my forthcoming trip to ESC Brazil. One of the talks I'll give at the conference is tentatively titled "Robot Apocalypse: Trends in Embedded Systems." This led me to pose a question: Just What Is an Embedded System? In turn, this led to a Flash Poll of the same name. (Have you contributed yet?)
It's funny how this sort of topic seems to grow in the telling. The responses to both the original article and the Flash Poll have been so overwhelming that it's led to a first for EE Times -- a live Radio Show debate between yours truly and the embedded guru Jack Ganssle. (By that, I mean Jack is an expert in embedded systems, not that he's a guru who was embedded in something while he wasn't looking.)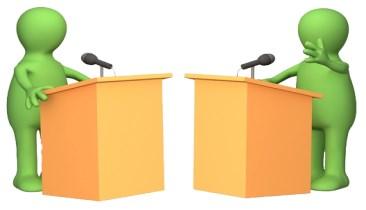 As the image above illustrates, I think it's safe to say I have Jack on the run. (I'm the one in green.) The thing is that there is a significant amount of confusion as to what is -- and is not -- an embedded system. In some cases, even the experts disagree.
Does the system have to be electronic, or does a mechanical system count? In the case of electronic systems, some people would class microwave ovens, dishwashers, and washing machines as embedded systems, assuming they have one or more processors. What about smartphones, smart watches, and smart cameras (with WiFi)? How about tablets and blade servers? What about an oscilloscope (with the Windows OS) or a set-top box (with the Linux OS)? How about an automobile?
This Radio Show will take place Friday, July 11, at 2:00 p.m. ET (11:00 a.m. PT). The show will commence with a 30-minute chat, which you can listen to as streaming audio in your web browser. Following this chat, you can join in the live (text-based) question, answer, and discussion session.
To take part in the live text chat, you need to be a member of the EE Times community. If you aren't already a member, now would be a perfect time to register. You also need to register for the radio show itself by clicking here.
So there you have it. This is your chance to become part of EE Times history. In the years to come, this august event will be discussed in hallowed tones. Anytime a group of grizzled old engineers meet together, one will eventually remark, "I took part in the Great EE Times Debate of '14." A hush will fall, and everyone will draw closer. Eventually, a junior member of the throng will timidly whisper, "Please tell us what it was like, o revered one."
To read comments about this question or to leave your own, go to "EE Times Radio Show Debate: Embedded or Not?"