Semiconductor shipments aim for trillion unit mark
SAN FRANCISCO—More than 1 trillion semiconductors are projected to ship in a calendar year for the first time in 2018, according to a forecast by market research firm IC Insights Inc.
The milestone achievement of about 1.02 trillion devices is expected to increase from 886.7 million units this year and about 950 billion units next year, according to the 2016 edition of IC Insights' McClean Report. The total includes all semiconductors, including integrated circuits and opto-sensor-discrete (O-S-D) devices.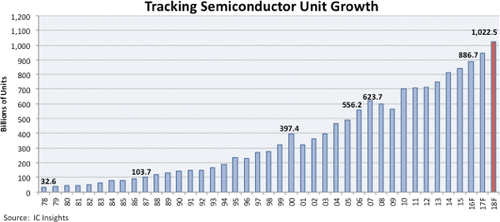 Topping the 1 trillion mark in 2018 would represent an impressive 9% compound annual growth rate over the past 40 years, from 32.8 billion shipments in 1978, according to IC Insights. The firm says the growth "demonstrates how increasingly dependent on semiconductors the world has become."
The single largest growth year for semiconductor shipments over the 40-year timespan was 1984, when unit shipments increased by 34%, IC Insights said. The largest decline came in 2001, when shipments declined by 19% in the wake of the dot-com bubble bust, the firm said.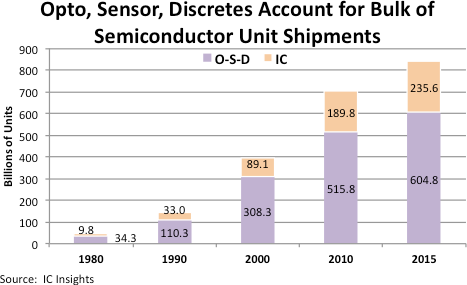 Unit shipments fell in 2008 and 2009 in the midst of global financial recession, the only period on record when units declined in consecutive years, IC Insights (Scottsdale, Ariz.) said.
Afterward, chip unit shipments surged by 25% in 2010, the second-highest growth rate since 1978, IC Insights said.
Continue reading on Embedded's sister site, EE Times: "Semiconductor shipments to top 1 trillion units in 2018."